• High Speed Camera CHU130EX With Maximum Resolution at 1280×1024, 1/2 Inch CMOS Sensor. Can capture 2000 frames per sec at full frame, 800 frames per sec at VGA size and up to 4000 frames per sec maximum. A Monochrome(※)digital high speed camera
• Small and light weight, equipped with internal memory. Multiple cameras can take high speed stereo pictures without frame rate dropping.
(Internal memory/DMA transfer hibrid type)

• Easy to connect with USB3.0 Bus power.


Specs
| | |
| --- | --- |
| Camera | A/D10bit Monochrome ※1 |
| Sensor | 1/2" CMOS |
| Maximum Resolution | 1280x1024 |
| Recording | Internal memory/DMA transfer hibrid type |
| Lens Mount | C Mount |
| Data Output | USB3.0 Micro-B |
| Shutter Speed | Max speed at 1/100,000(10μs) |
| Sensor Sensitivity (at 550nm) | 7.7V/lux.s |
| Power Input | 5V |
| Power Supply | USB Bus Power 12 pins connector |
| Power Consumption | less than 4.5W |
| Weight (Camera Only) | Approximately 210g |
| Dimensions | 44x44x81.5mm (excluding protrusion parts) |
Control Software
| | |
| --- | --- |
| Trigger | Start Stop Center (3.3TTL or contact) and motion trigger |
| Auxiliary Function | Histograms, Grids, Focus Peaking, Live Rotation, Frame number output, Trimming, Text data output |
| Image file | AVI、WMV、BMP/Jpeg、RAW |
| Supported OS | Windows7、8、8.1、10 |
Resolution, frame rate and record time
| | | | |
| --- | --- | --- | --- |
| Recording speed | Resolution | Frame number | Time |
| 200 | 1280x1024 | 1632frames | 8.1s |
| 250 | 1024x1024 | 2042frames | 8.1s |
| 300 | 1024x768 | 2724frames | 9.1s |
| 500 | 800x600 | 4466frames | 8.9s |
| 800 | 640x480 | 6982frames | 8.7s |
| 1000 | 512x480 | 8728frames | 8.7s |
| 1500 | 576x256 | 14551frames | 9.7s |
| 2500 | 320x240 | 27943frames | 11.1s |
| 4000 | 112x80 | 239552frames | 59.8s |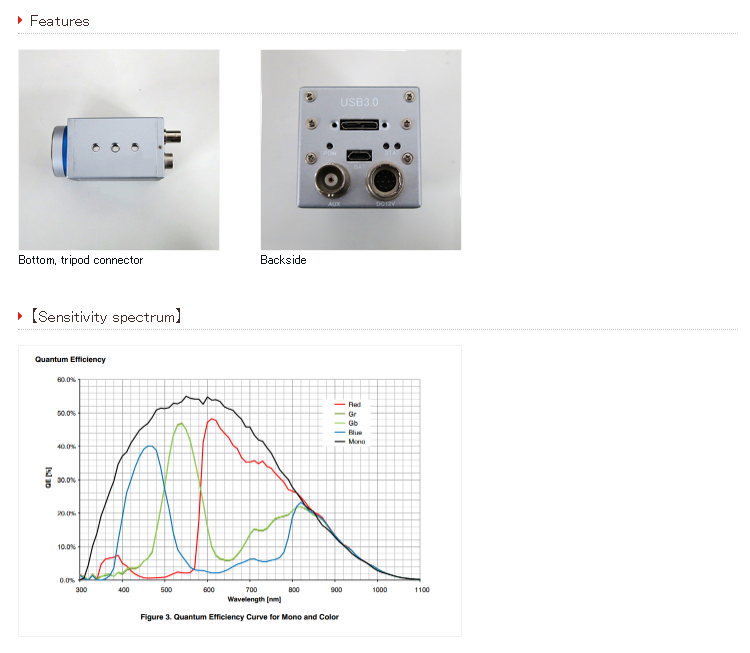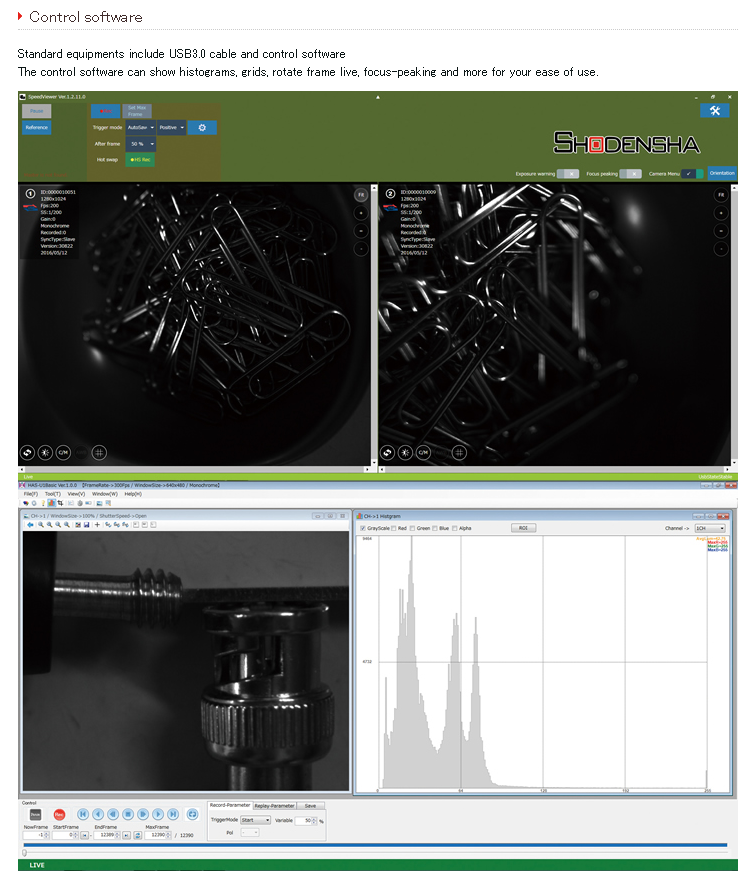 Inquire about this product
Tel: 02-664-2246
Business hours 8.30 - 17.30 (Closed on weekends & public holidays)