Instant slow motion observation of what you want to see
Trigger shooting is possible for what you want to shoot.

●Make high-speed cameras more convenient! Two softwares are included as standard!
●High-speed camera at low price
●800 fps (frames/second) at a resolution of 640 x 480 (VGA) effective pixels, and a maximum speed of 1000 fps (frames/second) at a resolution of 640 x 360
●A separate lens is required.

Make high-speed cameras more convenient! Two software included as standard



Observe what you want to see instantly in slow motion


High-speed phenomena and operations can be viewed instantly without the need for troublesome recording and file playback operations!
If you have ever used a high-speed camera, you must have experienced the difficulty of seeing what you want to see instantly in slow motion.
You can't watch what you want to see in slow motion without going through the trouble of recording, playing the file, and searching for the part you want to see.
REAL Slow allows you to see high-speed phenomena and actions in slow motion by pointing the camera at it.
You can also save still images and short videos.


Reliably record sudden events that are difficult to catch!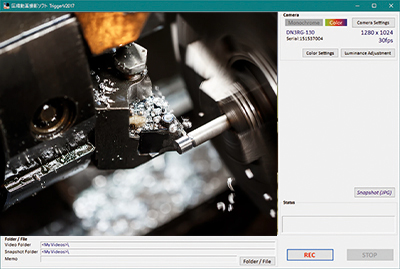 Like a drive recorder, you can record and check before and after the trigger is activated!

●You can record images before and after the trigger signal.
●You can also record endlessly by disabling the trigger input.

*Since it takes time to copy videos saved in memory to HDD or SSD, continuous recording is not possible. If you want to record continuously, please consider a long-term recording recorder (optional software).

|System Requirements

Supported Operating System
Windows 10 Pro 64bit・Windows 11 Pro
CPU
Intel core i5, i7 6th generation or higher
(However, the maximum clock is 2.3GHz or more)
RAM
8GB or more
*Avoid thin, lightweight or ultra-power-saving notebook PCs, as they are likely to cause various problems such as the USB power supply decreasing or cutting out after long periods of use.

|Recording time depending on resolution and number of frames*

Shooting speed
60fps
(frames/second)
100fps
(frames/second)
300fps
(frames/second)
500fps
(frames/second)
800fps
(frames/second)
1000fps
(frames/second)
Resolution
640x480
640x480
640x480
640x480
640x480
640x380
Recording time
with 8GB RAM
320 seconds
190 seconds
60 seconds
30 seconds
20 seconds
10 seconds
Recording time
with 16GB RAM
700 seconds
420 seconds
130 seconds
80 seconds
40 seconds
40 seconds
Recording time
with 32GB RAM
1460 seconds
870 seconds
290 seconds
170 seconds
100 seconds
100 seconds
*Times are approximate. It depends on the programs running on your computer.

|High-speed camera is super compact!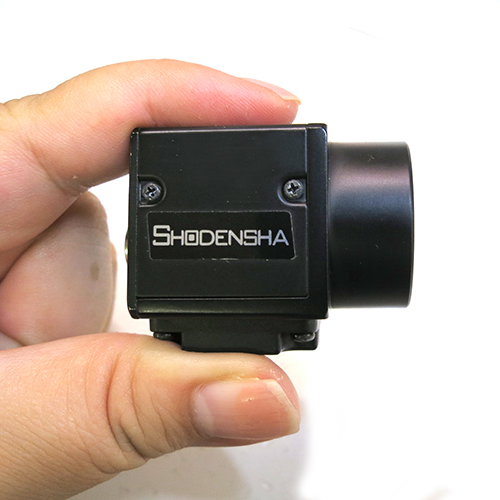 The high-speed camera is super compact at 29x29x42.6mm!
It can be used in a space-saving manner.

|There are 3 ways to fix it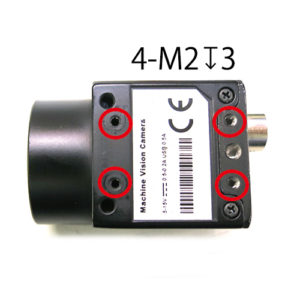 The standard product has four M2x4 holes.
You can use this hole to fix it in place.
Compatible screw size is 4-M2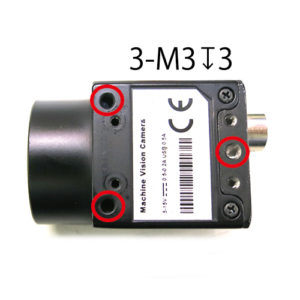 The standard product also has four M3x3 holes.
You can also use this hole to fix it in place.
Compatible screw size is 3-M3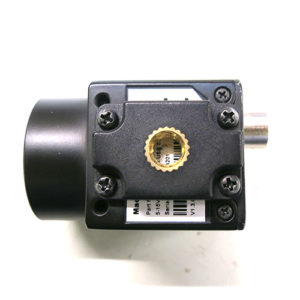 If you attach a tripod adapter, it can also be used with a tripod hole.
Compatible screw size is 1/4-20UNC

|Accesories
●High-speed camera body
●USB cable (2m)
●Slow motion observation software REAL Slow
●Trigger recording software Speed Capture
●Trigger cable

|Specification

Camera Type
Color/Monochrome
Imaging Sensor
1/4″ CMOS 300,000 pixels
ON Semiconductor
PYTHON300
Pixel Size(μm)
4.8 × 4.8
Maximum Resolution
640 x 480(VGA)
Video Record Format
AVI
Snapshot Record Format
BMP、JPEG
Frame Rate
When 640×480 800fps
When 640×380 1000fps
Dynamic Range
59 dB
S/N Ratio
39.9 dB
Shutter Speed
Maximum 1/20,000 (50μsec)
Power Supply Method
USB Bus Power
Weight(Camera Head only)
Approximately 63g
Maximum Power Consumption
3.3W at DC5V
Size
29x29x42.6mm(excluding protrusions)
Camera Mount
C Mount
Interface
USB3.0
Temperature Environment
(Ambient Temperature)
Operating 0~50° Storage -30~70°
Certification
CE, FCC, RoHS, KC


Videos
|CHU30-B-RS 800fps Shutter speed 1/20000 a belt moving at 30m/min with a 30x40 field of view

|CHU30-B-RS 800fps Shutter speed 1/20000
a belt moving at 200m/min with a 30x40 field of view

| CHU30-C-RS (Ignition of lighter)

|CHU30-C-RS (Drill)

|CHU30-C-RS(Sewing machine)

|CHU30-C-RS(Pulley for plastic models)

|CHU30-B-RS(Falling parts)
Inquire about this product
Tel: 02-664-2246
Mail:info@shodensha.co.th
Business hours 8.30 - 17.30 (Closed on weekends & public holidays)