Easy to hold shape, Comfortable operation at hand

●Handy camera with easy-to-hold shape
●Easy operation with buttons at hand (pause, white balance, zoom functions, etc.)
●Full HD (maximum resolution 1920 x 1080) high-definition images
●60fps with no display lag
*Borescope is sold separately.

A handy camera system for borescopes that can be used in the field.
<Usage image>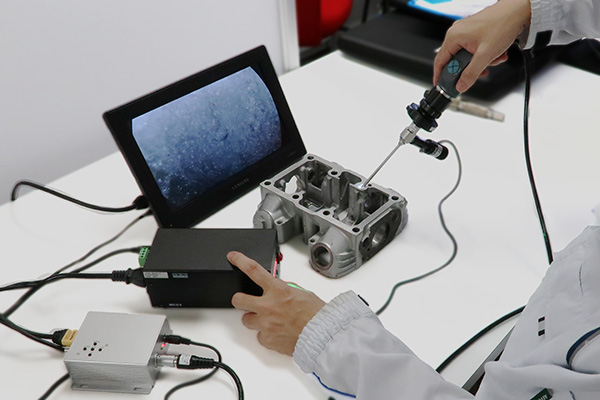 Useful in situations like this!
●For inspection heavy objects!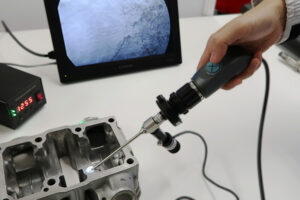 ●For inspection while holding the object in your hand!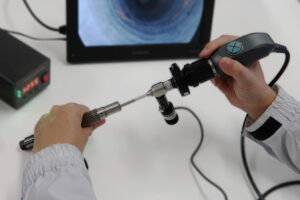 ●For inspecting gaps in large machines!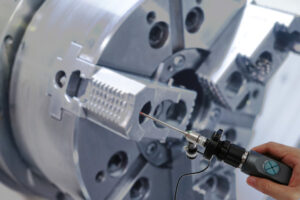 It can also be used in a variety of other situations, such as when the object to be inspected is too large to move, or when inspecting an object that is fixed to a machine tool during processing.

Point 1. A handy camera that is easy to hold with one hand
|The shape is easy to hold and has a sense of stability!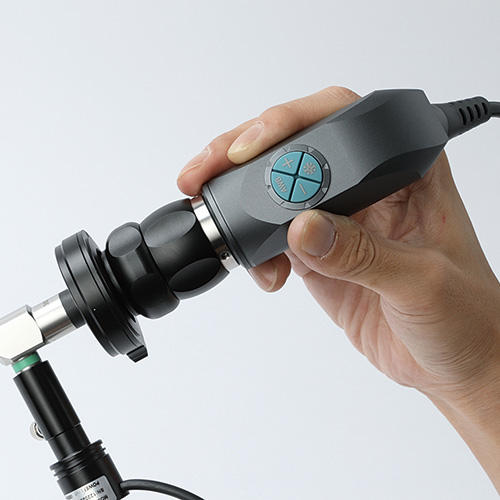 It is designed as a handy type, so it is easy to hold and reduces fatigue.

|One hand is free and inspection is easy!
●Inspect safely with assistance!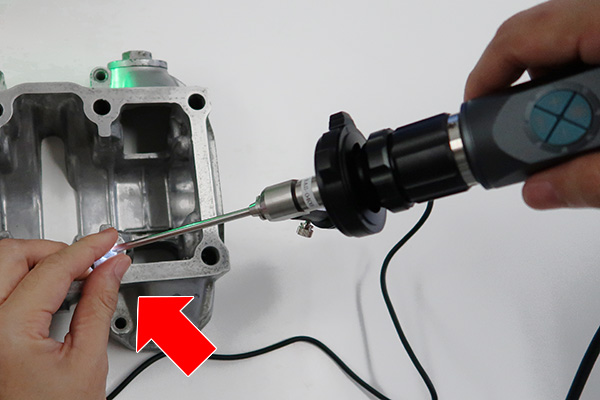 Guide it to the observation hole with your other hand.
Borescopes that break easily can be handled safely.

●Adjust the light intensity while inspecting!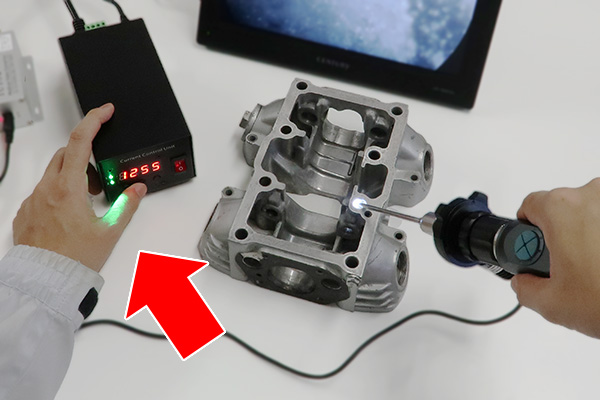 You can adjust the light intensity with your other hand,
Inspections can be made smoothly.

●Easy to inspect while holding the object!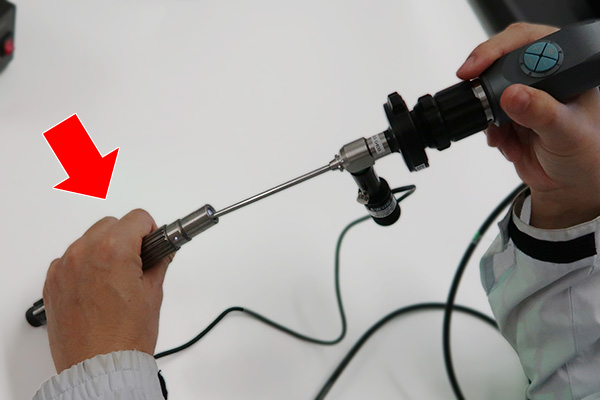 Since you can hold the object with your other hand,
Even objects with unstable shapes can be inspected.

Point 2. Easy to operate and inspect comfortably!
|Comfortable operation with four buttons on the camera part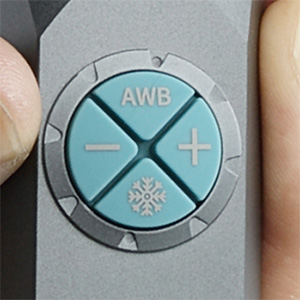 The four buttons at hand can be preset with functions such as "zoom function" and "white balance function."
You can operate it at hand while holding the camera, making it easy to inspect!

|Function assignments for each button can be customized
You can assign frequently used functions to each button from among multiple functions.
Improve your work efficiency by making settings that suit your situation!
<List of functions that can be set>
・DZOOM +
・DZOOM -
・BRIGHTNESS
・COLOR GAIN +
・COLOR GAIN -
・FREEZE
・AWB
・ENDOSCOPE +
・ENDOSCOPE -
・OFF

Controller
Button setting screen image

With the button on the controller,
You can make settings such as assignments.


Other points
●No computer required! Directly connected to monitor!
Just connect directly to a full high-definition monitor for your computer!
The controller can be connected directly to the monitor via HDMI connection, so no computer is required.


●The camera cable is long!
The camera cable connecting the controller and camera is approximately 3m long.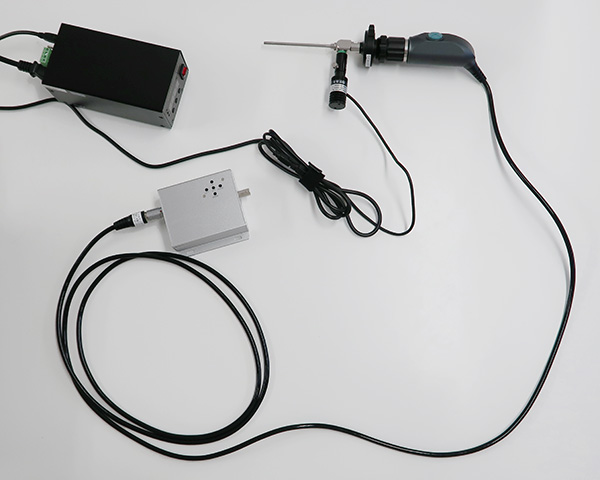 ●Not easily twisted even when rotated!
If there are many cables connected to the camera, the cables may become tangled and difficult to observe.
This product uses only one cable, so you can observe comfortably without worrying about the cable getting tangled!

| | |
| --- | --- |
| Too many cables can get tangled easily | One cable is strong against twisting |
| | |

Set content
Handy camera for borescope
HO200HD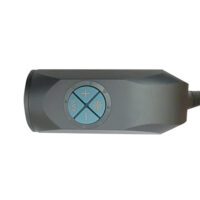 Variable magnification camera adapter lens
BA-A1835


LED lighting for borescope (3W)
LED-3WLTSB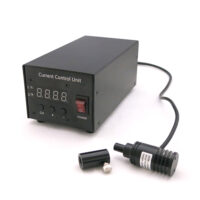 <Assembly image>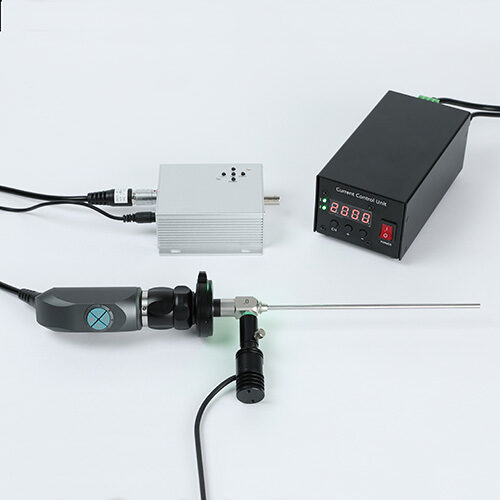 *Borescope is sold separately.
★Even if the borescope breaks, you can just replace the borescope part!
ติดต่อสอบถามเกี่ยวกับสินค้า
Tel: 02-664-2246
Mail:info@shodensha.co.th
เวลาทำการ จันทร์ - ศุกร์ 8.30 - 17.30 น.