Metallographic microscope(ultra HD microscope) is a microscope that is suitable for observation of the surface of metal or non translucent object.
For our inverted-type metallographic microscope GR-29J-C3, high quality of wide angle graphic can be observed by using the plan apochromat object lens or wide angle's eyepiece lens.
It also can be use the for quality control of mineralogy, precision machinery industry or even chemical industry etc..
Because object can be observed from below, it is conveniance for thick object's observation.

• Epi-illumination for polorized observation.
• It is possible to attach either C mount camera or microscope camera.

※100x object lens (Oil immersion lens),
Immersion oil is not included in the demo machine. for anyone who wish to use it, feel free to contact us.
Specification
Total magnification

Eyepiece lens

Object lens

Focus point's adjustment

50x,100x,200x,400x,600x

10x (18mm)

Plan apochromat object lens(No cover glass) 5x, 10x, 20x, 40x, 100x5x, 10x, 20x, 40x, 60xx

Coaxial Coarse/Fine Focus System
(Tension adjustment mechanism, limit stopper, minimum scale 0.002mm)
| | | | |
| --- | --- | --- | --- |
| Revolver | Interpupillary distance | Lens barrel | Filter |
| Revolver(5 pins) | 53-75mm | Triple lens head | Filter(yellow、blue、green、frosted glass) |
| | | | |
| --- | --- | --- | --- |
| Stage | Lighting | Power supply | Dimension |
| Mechanical stage 180x150mm | 6V 20W Halogen lamp(With dimming mechanism) | AC100V 50/60Hz | 200x580x360(H)mm |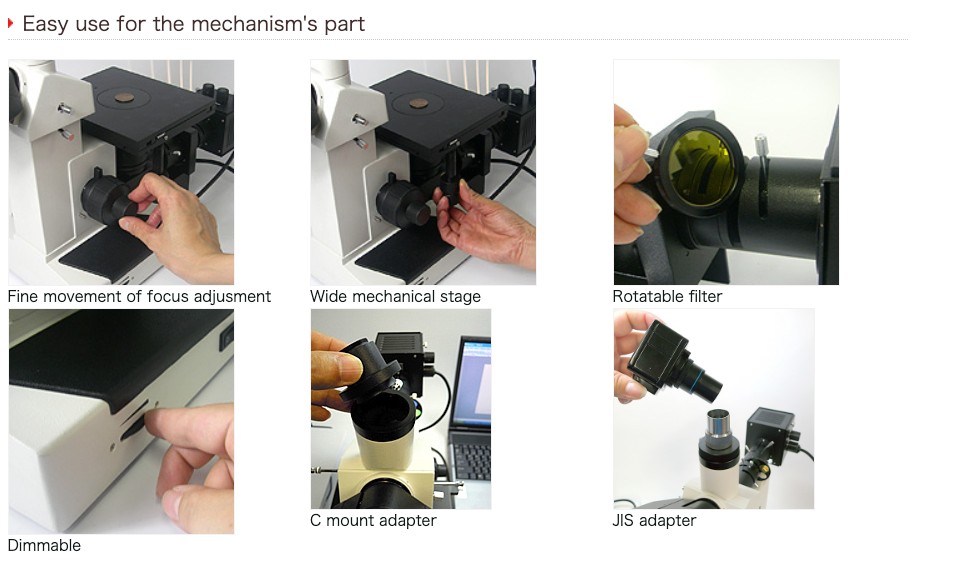 Inquire about this product
Tel: 02-664-2246
Business hour Mon - Fri 8.30 - 17.30